The Best Eats Are Found In Puerto Vallarta
Eat Your Shrimp!
We eat a lot of shrimp in Puerto Vallarta. Mexican shrimp certainly deserves its high rating as far as global recognition is concerned. Shrimp is a perfect source for so many nutrients and most people are completely unaware how good of a food it really is. The highest quality protein polyunsaturated fats, and vitamins (thiamin, riboflavin, niacin, B6, B12, and pantothenic acid) are found in shrimp. It is also very rich in minerals such as calcium, zinc, copper, flourine and phosphorus.)
The shrimp you eat in Puerto Vallarta is from the west coast of Mexico and is the largest specie regulated by the Mexican government when it comes to their terms of fisheries management. In other words, the major companies who bring in the shrimp you order at your favorite restaurants in Puerto Vallarta, such as Promarmex, are rooted in sustainability and committed to preserving the natural resources of the oceans. These companies don't just comply with the rules and regulations mandated by the Mexican government (Conapesca), they also follow the NOAA guidelines, which is the USA agency that enriches life through science. Their milieu covers everything from the surface of the sun to the very depths of the oceans. These organizations continue to work hand in hand.
When we bite into this crisp, tasty crustacean, we aren't likely to think about their abundance in the sea and how they are harvested. In many countries around the world, little thought is given to the shared environment and that shrimp have many natural predators; fish, whales, dolphins, starfish, seabirds, sharks and humans. In Mexico, due to the compliance of the laws by many of the fleet, we are assured of a continued profusion of these delightful edibles. Most boats in the Mexican waters are equipped with turtle excluders, reduction devices and other equipment meant to protect sealife.
Served hot or cold, in omelettes, salads, cocktails and for breakfast lunch or dinner, you will be able to find endless choices of shrimp consumption in Puerto Vallarta. They are usually cleaned and deveined before they arrive on our table; their five pairs of legs may be left for show but it is the muscular tail you will devour. In tomatoey sauces, dipped in butter, or smothered in diablo hot sauce, shrimp is a delicious and nutritious menu item.
Buen provecho!
Que es cómo es!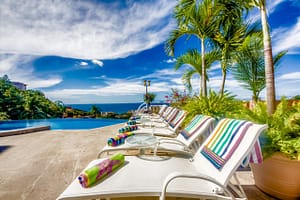 It's no secret that the best way to prevent skin damage and premature aging is by using sunscreen. But we also know that the hours can pass by so easily laying by the beautiful heated, infinity pool at Casa Yvonneka or enjoying the outdoor living spaces at our luxury villa
Read More »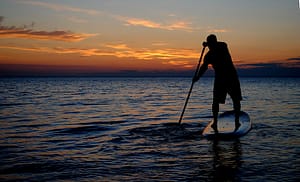 Our first introduction to standing on a surf board with a paddle was a wet one. It took several attempts to learn our balance points but the landing was always soft and forgiving. Stand Up Paddle, known as SUP, has become increasingly popular in Puerto Vallarta over the past few years.
Read More »
Vallarta Vacation whats There To Do Here – Casa Yvonneka Foodie update Joe Jacks Fish Shack has reopened after a remodel and upgrade is back at their original location you know and love  on Basillio Badillo in the popular Romantic Zone.  It is also the Lucky 13th year as one
Read More »