Vallarta Vacation: Celebrations
We love Christmas in Puerto Vallarta. If you normally go back to your hometown for the holidays, it's time to make a change and stay in Puerto Vallarta in December. Invite your friends and family to come your way instead. The weather is perfect and there is so much to do, you will almost need to appoint an event coordinator.
The magic of the peregrinations and posadas will be lasting memories for everyone. Though Puerto Vallarta grows more modern every day, age old traditions will never fade. Starting on December 1st and continuing for twelve days, these peregrinations, or processions join people from various colonias (neighborhoods), local businesses and stores, hospitals, clubs (like Kiwanis), and schools. Simple and elaborate floats portray the story of the Virgin of Guadalupe, with a chosen maiden, a boy or young man in the character of Juan Diego, who had the first vision of Our Lady, and scores of roses, the symbol of this celebration. Villagers walk long distances and often with bare feet, to represent the original sojourn. It is a solemn and joyful occasion. We usually pick one day to have a lengthy dinner along the route and watch the proceedings. Locals of all ages, wee children to the elderly participate, and it's not unusual to see some pushed along in wheelchairs over the rough cobblestones. Aztec dancers demonstrate their rituals with colorful costumes and charming chants. Bands march and choirs sing. Arms are laden with baskets to be delivered to the church and distributed to the needy. The last night is a huge celebration with fireworks at midnight, bells tolling and tens of thousands rejoicers filling the streets.
When all that excitement of the peregrinations is over, it's time for posadas, which represent the search for a birthplace for the Christ child. Businesses show their gratitude to employees by throwing parties, in which no one works but the boss. It's a fun night with gift exchanges, abundant food and drink, relaxation and everyone letting down their hair. This may be the night when employees receive their alginado, the
Christmas bonus that every employer is legally obligated to provide. In our small colonia, many homes light up for the evening, BBQ's flaming in the streets, chairs all over the sidewalks and neighbors coming together to eat, drink, laugh and pray. These can involve the local parish, and once the merriment calms down a bit, a beautiful procession follows with people carrying candles and singing traditional songs.
This is our idea of Christmas. We love the spirit of camaraderie, generosity and peace.
Que es cómo es.
---
At Casa Yvonneka, paradise is found just off a simple cobblestone street. As you enter through a massive iron door, you walk through a stunning tropical garden to enter your own private oasis. From the moment you look across the infinity pool with its breathtaking views of Puerto Vallarta and Bay of Banderas, you see an exquisite property that has been thoughtfully planned to be your private island of comfort.  The spectacular villa has an elevator, and is fully air-conditioned and includes many luxurious details.
Casa Yvonneka in Puerto Vallarta features several indoor and outdoor living areas, a spacious terrace by the infinity pool with outdoor dining, multiple terraces and a gym. Our luxury Puerto Vallarta vacation rental villa is ready and waiting for you!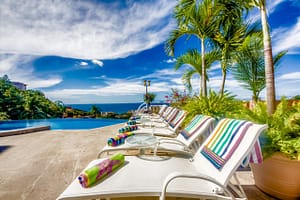 It's no secret that the best way to prevent skin damage and premature aging is by using sunscreen. But we also know that the hours can pass by so easily laying by the beautiful heated, infinity pool at Casa Yvonneka or enjoying the outdoor living spaces at our luxury villa
Read More »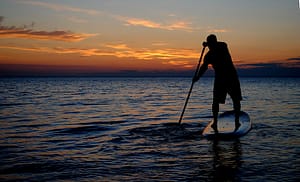 Our first introduction to standing on a surf board with a paddle was a wet one. It took several attempts to learn our balance points but the landing was always soft and forgiving. Stand Up Paddle, known as SUP, has become increasingly popular in Puerto Vallarta over the past few years.
Read More »
Vallarta Vacation whats There To Do Here – Casa Yvonneka Foodie update Joe Jacks Fish Shack has reopened after a remodel and upgrade is back at their original location you know and love  on Basillio Badillo in the popular Romantic Zone.  It is also the Lucky 13th year as one
Read More »