Las Caletas
Vallarta Vacation Fabulous Caletas – Las Caletas at Casa Yvonneka
Over the years we have watched the magic grow at Las Caletas in Puerto Vallarta. If you're looking for a romantic getaway or an evening of fun and wonderful entertainment with culture and glamour, we recommend Rythms of the Night at Las Caletas. This attraction is only reached by boat and reservations are necessary. Your realtor or rental agent will know how to help you purchase tickets from the company that own exclusive rights to this incredible desitination. Cruising from Puerto Vallarta, your vessel will take you down the coast, a short distance from the city with approximately 20 minutes travel time. There are many small settlements on the coastline and just like Las Caletas, they are often mistaken for islands, though they really are only accessible from the seaside. The highway is far above a steep incline, and those who come from inland only do so on foot or horseback.
As one can only reach Las Caletas from the water, the thrilling sight of mermaids greeting arrivals is just the beginning of an amazing adventure. If you should choose to go on the evening trip, torches light your way as you disembark and follow the path guided by regional flute music, to a performance venue like no other, a pyramid in the jungle where ancient Aztec dances are performed among fire, feathers and flora. Learn some history of the Mayans who once lived throughout Latin America. A buffet dinner is served, which we think is quite good, considering how difficult it can be to serve the masses and we have heard raves about this food from visitors.
Once occupied by the indigenous Chacala Indians, Puerto Vallarta later became the home of the famous Hollywood producer and director John Huston, who after living in Gringo Gulch in Puerto Vallarta, decided to build a private home in Las Caletas. Today only groundskeepers live there, the site of many parties of the stars in days gone by.
Tours in daylight hours unload tourists for a day at the beach, a gorgeous and relatively speaking, private area. Swimming, lunch, siesta in a hammock strung between tall palms are only part of the day. Ecological hikes of varying degrees, a visit to the spa, a fresh margarita from one of the jungle bars might round out your day.
Que es cómo es.
---
At Casa Yvonneka, paradise is found just off a simple cobblestone street. As you enter through a massive iron door, you walk through a stunning tropical garden to enter your own private oasis. From the moment you look across the infinity pool with its breathtaking views of Puerto Vallarta and Bay of Banderas, you see an exquisite property that has been thoughtfully planned to be your private island of comfort.  The spectacular villa has an elevator, and is fully air-conditioned and includes many luxurious details.
Casa Yvonneka in Puerto Vallarta features several indoor and outdoor living areas, a spacious terrace by the infinity pool with outdoor dining, multiple terraces and a gym. Our luxury Puerto Vallarta vacation rental villa is ready and waiting for you!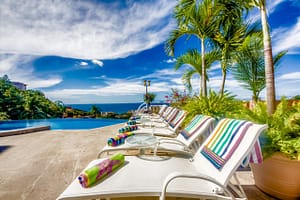 It's no secret that the best way to prevent skin damage and premature aging is by using sunscreen. But we also know that the hours can pass by so easily laying by the beautiful heated, infinity pool at Casa Yvonneka or enjoying the outdoor living spaces at our luxury villa
Read More »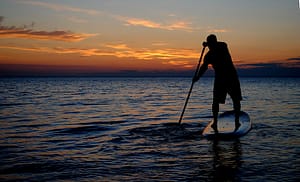 Our first introduction to standing on a surf board with a paddle was a wet one. It took several attempts to learn our balance points but the landing was always soft and forgiving. Stand Up Paddle, known as SUP, has become increasingly popular in Puerto Vallarta over the past few years.
Read More »
Vallarta Vacation whats There To Do Here – Casa Yvonneka Foodie update Joe Jacks Fish Shack has reopened after a remodel and upgrade is back at their original location you know and love  on Basillio Badillo in the popular Romantic Zone.  It is also the Lucky 13th year as one
Read More »