Fly the Cheaper Skies
Fly the Cheaper Skies
Everyone thinks there are tricks to fly back and forth between Puerto Vallarta and that other place you hang your hat, without going broke in the meantime.
It's a fact that Tuesday and Wednesday are the best days to fly to save your dollars and pesos. Peak times are Thursday through Monday, especially given a three day weekend on either side and that's when the airlines are able to hike the prices up for those who have no scheduling choices. Airlines have certainly hired the best technicians in the world to determine algorithms, hence pricing, which is always based on sales and availability.
Remember the statement about buying your tickets 57 days prior to your flights? It's a myth. Our research couldn't even come up with exactly where and when it started but it simply isn't true. If you are a frequent flyer to and from Puerto Vallarta and familiar with rates on the routes you usually travel and you do see a fare that is obviously the best possible price, grab it! Chances are the seats will be gone within hours; this kind of news doesn't stay secret.
We belong to mailing lists of the airlines we commonly use. They often send out last-minute specials and they're usually true blue deals. We also have gotten in the habit of checking Groupon, LivingSocial and other coupon sites.
Be the first one to raise your hand when announcements are made for overbooked flights. Be willing to hang out in an airport and read a good book or people-watch, and you can pick up valuable vouchers. Flying without panic and deadlines for reaching your destinations can be very lucrative. United and Delta even let you bid on how much compensation you'd be willing to give up your seat. United has been known to compensate passengers as much as $10,000; that's a lot of trips paid for. Let the attendant know before boarding and you can get on a list. There are so many flights in and out of Puerto Vallarta on a daily basis, you won't need to wait long.
Book your flight directly with the airline. Online booking is always your best option but it costs nothing to speak with a ticket agent on the phone and we have found them to be immensely helpful. Third-party booking is a thing of the past when you're simply jumping on a flight. If you're planning a trip with several stops, ground transportation and accommodations, then by all means, use a travel agent; there are good ones in Puerto Vallarta. But for uncomplicated straightforward flights, you'll find that airlines offer the most flexibility. You can always do your own research on Expedia, Skyscanner or Google Flights so you have a grip on what you're looking for before you commit.
Que es cómo es.
At Casa Yvonneka, paradise is found just off a simple cobblestone street. As you enter through a massive iron door, you walk through a stunning tropical garden to enter your own private oasis. From the moment you look across the infinity pool with its breathtaking views of Puerto Vallarta and Bay of Banderas, you see an exquisite property that has been thoughtfully planned to be your private island of comfort.  The spectacular villa has an elevator, and is fully air-conditioned and includes many luxurious details.
Casa Yvonneka in Puerto Vallarta features several indoor and outdoor living areas, a spacious terrace by the infinity pool with outdoor dining, multiple terraces and a gym. Our luxury Puerto Vallarta vacation rental villa is ready and waiting for you!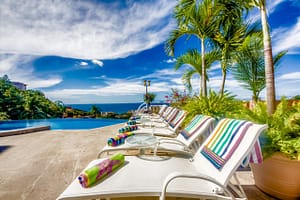 It's no secret that the best way to prevent skin damage and premature aging is by using sunscreen. But we also know that the hours can pass by so easily laying by the beautiful heated, infinity pool at Casa Yvonneka or enjoying the outdoor living spaces at our luxury villa
Read More »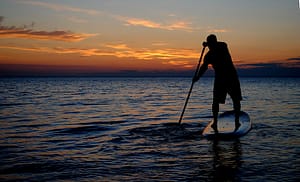 Our first introduction to standing on a surf board with a paddle was a wet one. It took several attempts to learn our balance points but the landing was always soft and forgiving. Stand Up Paddle, known as SUP, has become increasingly popular in Puerto Vallarta over the past few years.
Read More »
Vallarta Vacation whats There To Do Here – Casa Yvonneka Foodie update Joe Jacks Fish Shack has reopened after a remodel and upgrade is back at their original location you know and love  on Basillio Badillo in the popular Romantic Zone.  It is also the Lucky 13th year as one
Read More »