Holiday Dinners in Puerto Vallarta
Holiday Dinners in Puerto Vallarta
We've recently been involved in conversations about scarcity and abundance of familiar foods during the holidays in Puerto Vallarta. We've talked about this before but there are always new and old ideas to share with newbies and also with faithful oldies.
This year, once again, turkeys seem to be the subject of discussion at cocktail hour; who's having them, where to find them and how to cook them. Once was a time we couldn't find a turkey in Puerto Vallarta but now they're in every big box store. You'll also find imported hams, cheeses and delights such as cranberry sauce. It's not longer a matter of trying to duplicate what one would have prepared "back home." Costco even has fresh bags of cranberries so you can still make your own, and ingredients such as walnuts and oranges are not scarce. On the other hand, you could try making other sauces that will delight your gourmands. Why not use papaya, mango, pomegranates, passion fruit, and make a compote that will go well with all meats.
Add some variety to your New Year's Eve dinner. Consider tamales for your menu. They're traditional and can be found everywhere. We actually buy ours from street vendors, have done so for a couple decades, and never had a problem. The work that goes into tamales can be left to someone else and leave you more time in the hammock.
Potatoes are always a problem. Those found in Puerto Vallarta are very high in sugar content. When mashed they end up soggy and pasty. The solution is to peel and cut them in half the previous day. Soak them overnight completely covered with water and about half cup of salt. Drain the water the next day, rinse well and cook as usual. You will feel like you are home for the holidays, if you so wish.
Vegetables are abundant here in Puerto Vallarta, fresh and basically organic. They aren't as pretty as you will find in your fancy supermarkets in the north but they're tasty and healthy. Carrots have robust flavor and are as pure as to leave orange stains on the cutting board. Brussels sprouts are smaller but bursting with tastiness and go well with
local cauliflower and broccoli. Chayote is a Mexican vegetable that can be treated and cooked like squash and is delicious with a bit of butter and desired amount of salt and pepper. Buen provecho!
Que es cómo es!
At Casa Yvonneka, paradise is found just off a simple cobblestone street. As you enter through a massive iron door, you walk through a stunning tropical garden to enter your own private oasis. From the moment you look across the infinity pool with its breathtaking views of Puerto Vallarta and Bay of Banderas, you see an exquisite property that has been thoughtfully planned to be your private island of comfort.  The spectacular villa has an elevator, and is fully air-conditioned and includes many luxurious details.
Casa Yvonneka in Puerto Vallarta features several indoor and outdoor living areas, a spacious terrace by the infinity pool with outdoor dining, multiple terraces and a gym. Our luxury Puerto Vallarta vacation rental villa is ready and waiting for you!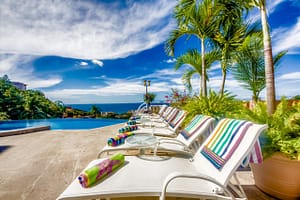 It's no secret that the best way to prevent skin damage and premature aging is by using sunscreen. But we also know that the hours can pass by so easily laying by the beautiful heated, infinity pool at Casa Yvonneka or enjoying the outdoor living spaces at our luxury villa
Read More »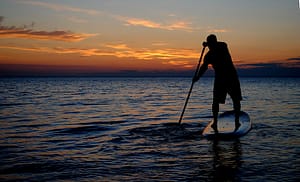 Our first introduction to standing on a surf board with a paddle was a wet one. It took several attempts to learn our balance points but the landing was always soft and forgiving. Stand Up Paddle, known as SUP, has become increasingly popular in Puerto Vallarta over the past few years.
Read More »
Vallarta Vacation whats There To Do Here – Casa Yvonneka Foodie update Joe Jacks Fish Shack has reopened after a remodel and upgrade is back at their original location you know and love  on Basillio Badillo in the popular Romantic Zone.  It is also the Lucky 13th year as one
Read More »