Vallarta Vacation: Jungle Critters
Animals You May See in Puerto Vallarta
We've been repeatedly asked by prospective visitors just what kinds of animals they are likely to see in Puerto Vallarta. It's a jungle, of course, with mountains as backdrop, so the variety is quite amazing. Creatures in the midst of all the action of the city are slightly different from what shows up on the outskirts. With construction going on in the downtown/Romantic Zone, some small animals can be rousted out of their homes but normally scurry away as quickly as possible.
Ants are ubiquitous in any home in Puerto Vallarta, no matter the height, but they are nothing more than annoying. Cockroaches may show up occasionally and can be swept out the door. Spiders and scorpions might scare the jeepers out of someone but they, too can be dealt with using a broom or the old glass jar/cardboard trick and deposited in the great outdoors. Don't step on them, especially in flip-flops; it's risky and unnecessary. Geckos are your friends and they are in every home. Birds serenade us from sunrise with distinctive songs and chatter. Bats swoop around at night and take care of unwanted mosquitoes and other flying insects. Snakes are here but rarely sighted. Iguanas can be seen in trees and sunbathing on rocks and we have had them lounging around the pool. They scuttle off with sight of humans. Crocodiles in the Marina are not unheard of and we highly recommend keeping pets on leash, in general. We don't know of any human encounters but are aware of two sad incidents involving dogs.
Speaking of dogs, there are many, and efforts on the part of those who have made Puerto Vallarta their home, along with the help of locals and some very compassionate veterinarians to limit reproduction, has lowered the population somehwat. Same with cats.
The coatimundi, known locally as a tejon, is a very common site in outlying neighborhoods, as well as the opossum (tlacuaches) and over the years we have seen a couple armadillos. You don't have to go to the farm to see farm animals such as cows, horses, mules, chickens. It's not unusual to find them in small pockets all over the city. Jaguar and ocelot are native to Puerto Vallarta but they won't venture into town.
What we have learned about most of these indigenous creatures is that they live among us and we are not commonly aware of them until we move into their territory.
Que es cómo es.
---
At Casa Yvonneka, paradise is found just off a simple cobblestone street. As you enter through a massive iron door, you walk through a stunning tropical garden to enter your own private oasis. From the moment you look across the infinity pool with its breathtaking views of Puerto Vallarta and Bay of Banderas, you see an exquisite property that has been thoughtfully planned to be your private island of comfort.  The spectacular villa has an elevator, and is fully air-conditioned and includes many luxurious details.
Casa Yvonneka in Puerto Vallarta features several indoor and outdoor living areas, a spacious terrace by the infinity pool with outdoor dining, multiple terraces and a gym. Our luxury Puerto Vallarta vacation rental villa is ready and waiting for you!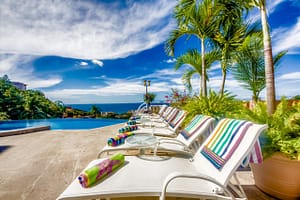 It's no secret that the best way to prevent skin damage and premature aging is by using sunscreen. But we also know that the hours can pass by so easily laying by the beautiful heated, infinity pool at Casa Yvonneka or enjoying the outdoor living spaces at our luxury villa
Read More »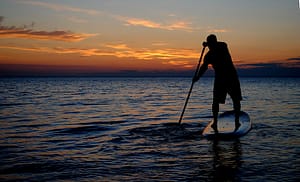 Our first introduction to standing on a surf board with a paddle was a wet one. It took several attempts to learn our balance points but the landing was always soft and forgiving. Stand Up Paddle, known as SUP, has become increasingly popular in Puerto Vallarta over the past few years.
Read More »
Vallarta Vacation whats There To Do Here – Casa Yvonneka Foodie update Joe Jacks Fish Shack has reopened after a remodel and upgrade is back at their original location you know and love  on Basillio Badillo in the popular Romantic Zone.  It is also the Lucky 13th year as one
Read More »