Let's Go to the Movies!
Let's Go to the Movies!
We love the movie theaters in Puerto Vallarta! Take into consideration how much we pay for a movie back where most of us come from. Film ticket prices do vary somewhat in Canada and the USA but not by much. An average seat for a first run movie in New York City is going to cost you around $16.00. In Los Angeles it's about the same. Toronto isn't much better with the average ticket costing about $15 CDN. How much will you pay to see Star Wars in Puerto Vallarta? The average price is $32 pesos. That's right around $1.50 USD, depending on the fluctuation of the peso on any given day.
The seats in Puerto Vallarta are comfortable, the popcorn is great and some theaters serve alcohol and full-on meals. The theaters and lobbies are clean, plus the aisles are wide and navigable. Some theaters have recliners (in case the movie is boring you, naps are an option.) In the summer, auditoriums are usually full at all times of day, because they also have air conditioning!
We asked our friends what stands out for them in the theaters in Puerto Vallarta and they came up with interesting and helpful responses. The food gets raves at La Isla and a special shout-out to their friendly and courteous staff. The VIP Theater is considered state-of-the-art and many think their sounds systems superior, but Cinemax at Galerias seems to have the best popcorn in town and their sound system gets high marks, too. We have sadly experienced movies where the volume is turned up so high, we nearly felt our hair blowing; then again, we have also been exposed to the low level of decibels where we have strained to hear actors and missed important dialogue.
Listings for movies in Puerto Vallarta can be found in the local newspapers and are almost always correct. The best way to find listings and times is online and each theater has their own site. If a movie is listed with SUB, that means it's in English and has Spanish subtitles. If it says DOB, you better speak Spanish. All kid movies are in Spanish and are dubbed.
Movie night in Puerto Vallarta is an inexpensive date with family, children or your significant movie buff partner. The only complaints we picked up in our survey were mainly a couple of small gripes about cheap wine, and not enough ice in drinks, but we've suffered much worse than that.
The best thing is the unbeatable price and everyone agrees, it's one of the bargains that make living here a real treat.
Que es cómo es.
At Casa Yvonneka, paradise is found just off a simple cobblestone street. As you enter through a massive iron door, you walk through a stunning tropical garden to enter your own private oasis. From the moment you look across the infinity pool with its breathtaking views of Puerto Vallarta and Bay of Banderas, you see an exquisite property that has been thoughtfully planned to be your private island of comfort.  The spectacular villa has an elevator, and is fully air-conditioned and includes many luxurious details.
Casa Yvonneka in Puerto Vallarta features several indoor and outdoor living areas, a spacious terrace by the infinity pool with outdoor dining, multiple terraces and a gym. Our luxury Puerto Vallarta vacation rental villa is ready and waiting for you!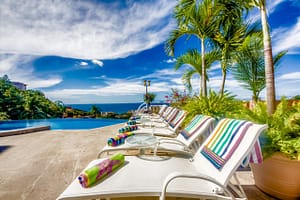 It's no secret that the best way to prevent skin damage and premature aging is by using sunscreen. But we also know that the hours can pass by so easily laying by the beautiful heated, infinity pool at Casa Yvonneka or enjoying the outdoor living spaces at our luxury villa
Read More »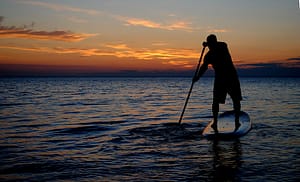 Our first introduction to standing on a surf board with a paddle was a wet one. It took several attempts to learn our balance points but the landing was always soft and forgiving. Stand Up Paddle, known as SUP, has become increasingly popular in Puerto Vallarta over the past few years.
Read More »
Vallarta Vacation whats There To Do Here – Casa Yvonneka Foodie update Joe Jacks Fish Shack has reopened after a remodel and upgrade is back at their original location you know and love  on Basillio Badillo in the popular Romantic Zone.  It is also the Lucky 13th year as one
Read More »