Vallarta: About Crocs
Vallarta: About Crocs
About Crocs
Our friend Bob refers to torrential rains in Puerto Vallarta as "gully washers." These events cause water to come gushing down from the mountains.  Along the way, creatures often go along for the ride, willingly or not. Consequently, there have been more than the normal amount of croc sightings in the past couple months and this could be why.
Crocodiles are comfortable in fresh and salt water so they don't mind the quick trip to the seashore. Signs are posted in prominent spots where these large and frightening reptiles often are seen. Crocodiles are indigenous to Puerto Vallarta; they were here long before the first hotel, vacationer, fisherman or pineapple picker. You'll find the locals respect crocs and while they keep a safe distance, aren't usually afraid of them. Crocodiles are predictable in the sense their locations are easy to guess, as opposed to snakes and scorpions, which are more inclined to cause alarm for someone familiar with the terrain. The species in Puerto Vallarta is the American Crocodile, not surprisingly found in the Americas. They inhabit areas up to twenty miles inland in the states of Nayarit and Jalisco. We've seen them and don't bother with an approach. The mature male can grow to the length of 5 – 6 meters, which is 16 – 19 feet; we have no interest in getting close. That's what a telephotos lens is for.
These animals have no natural predators; their only real enemy is man. In Puerto Vallarta, when a crocodile is found in a populated area, a rescue crew responds. I've watched this operation and it's as humane as possible, considering the croc has a tendency to fight back. Not surprising. They take the crocodile out of harm's way and relocate them. That isn't to say that no one has ever been attacked. There have been dogs, off leash, which have disappeared into the jaws of these prehistoric-type fellows, while owners stood by helplessly. A man was reportedly killed this last summer in the Ameca River. He was sitting on the edge of the riverbanks, dangling his legs in the water and met a horrible end. Ordinarily crocs are not aggressive but if you see a sign that tells you to beware of them, don't trespass.
Crocodiles in Puerto Vallarta are not as nocturnal as their behavior would naturally be, since our presence has upset the balance and changed their habits. If you want to see crocodiles up close in Puerto Vallarta, there are preserves with well trained staff who will be thrilled to introduce you to these amazing animals and give you an education in their habitats.
Que es cómo es.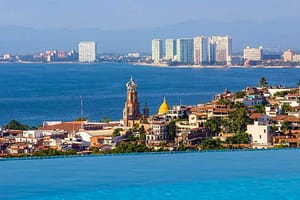 Casa Yvonneka is consistently a top-rated luxury rentals Puerto Vallarta on Trip Advisor because of the many amenities enjoyed by our guests, including our sparkling, heated infinity
Read More »