Vallarta: Sound Advice
Vallarta: Sound Advice
Hands on the Wheel
We have learned it's best to keep hands on the wheel while driving in Puerto Vallarta and eyes on the road. While cruising along recently with our visiting granddaughter in the back seat, we stopped at a light and pulled out the cell phone. Our intention was to let friends know we were almost to their apartment complex so they could come and meet us at the gate to let us in for an afternoon swim. The light turned green and we tooted on along, phone to our ear, waiting for someone to pick up on the other end. In the meantime, an ominous blurping sound interrupted our forward motion and we were forced to pull over and have a conversation with an office of traffic law, who had signaled us from his scooter.
There was no argument. I knew I had been caught phone-handed. I was issued to ticket that he said would be halved if I paid it quickly. At the police station. On the outskirts of Puerto Vallarta. This is painful, because one would much rather be entertaining the grandchildren at the beach. The ticket was $75 pesos so the final cost was $37.50 pesos, a pittance. However… we had to travel, altering our schedule with visiting family in town and go to Las Juntas to stand in a line in the hot sun to pay a silly ticket. It's not the amount; it's the inconvenience. This is about to change in the State of Jalisco.
Pending final approval, this new regulation is expected to be take place soon, considering that at least 55 citizens a day are involved in accidents as the result of cell phones. This includes drivers of all types of vehicles, their victims and pedestrians who are distracted while texting and phoning while walking.
The fine for driving in Puerto Vallarta, while being distracted by one's cell phone is about to leap from a paltry $75 pesos to perhaps somewhere in the vicinity of ten times that much. It won't simply cause irritation, it will pain the pocketbook, which is exactly what authorities intend. An impact needs to be made on errant drivers.
Puerto Vallarta won't be caught off guard. This initiative will be accompanied by a PR campaign to inform drivers in Puerto Vallarta and the wider areas of Jalisco to be alert and put the phone away. We can't argue with the sensibility of this motion.
Que es cómo es.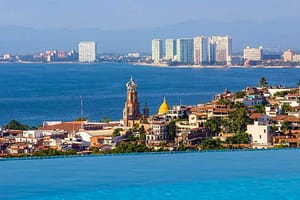 Casa Yvonneka is consistently a top-rated luxury rentals Puerto Vallarta on Trip Advisor because of the many amenities enjoyed by our guests, including our sparkling, heated infinity
Read More »